It may have taken 46 years,
but Beatlemania finally arrived in Utah
on a Tuesday night - July 13th, 2010
and we were there!!!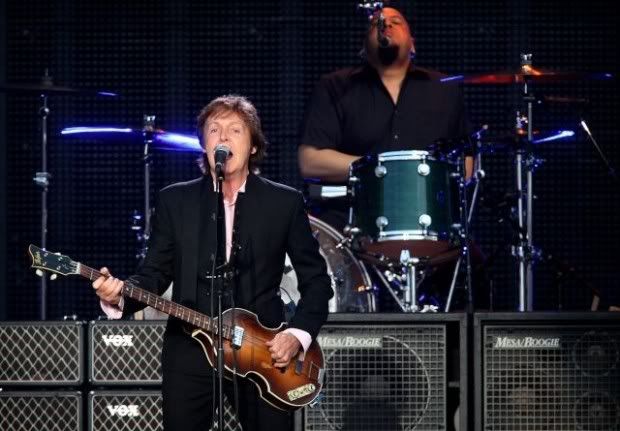 Sir Paul McCartney performed before a sold-out crowd of 25,974 at the Rio Tinto Stadium in Salt Lake City, Utah, as part of his Up And Coming Tour 2010.
Venus and Mars - show opener

This was the band's 200th show!

Paul has been performing with Paul 'Wix' Wickens (music director/keyboards), Rusty Anderson (guitar), Brian Ray (bass) and Abe Laboriel Jr (drums) for eight years.
The weather was hot (very hot) but as luck would have it our cheap seats ($150 each- and worth every penny) were in the shade all evening. The day worked out perfectly for us. Our flight with Southwest Airlines was uneventful and on time. We arrived in SLC at 2:00 and went to pick up our rental car. We were supposed to get a Chevy Impala but they were out of cars and tried to get us to take a mini-van - you should have seen Dan's face at the thought! Dan finally got us into a Toyota Rav4 which was really nice. We got to our hotel (The Comfort Inn - we can see the Rio Tinto Stadium from there!) took a little nap - well Dan had a nap, I was too excited to do anything but watch TV. I put on my "All You Need is Love t-shirt and at 5:00 we walked to the stadium, stopping first at Sizzler for some steak & lobster. We walked over with a lady who had been to a Beatles concert in 1964 when she was 13. EVERYONE there was going to the concert! It might be at Rio Tinto but to me it was like Shea Stadium to me! I held my breath as they scanned our tickets - they looked fake - a sloppy e-ticket printed on poor paper - I had been worried about them - they came in a Fed-X envelope but just didn't look legit - but they were! I would have seriously died if they didn't let us in! We easily found our seats and I took off my shoes and sat back to wait.
Finally it was Showtime! The weather was hot so Paul took off his Mod collarless black jacket after the first few songs to reveal a pink shirt. He joked, "Usually I keep my jacket on a little longer," he told the crowd, "But now it's coming off. And that's all that's coming off."
All My Loving
We were a long way from the stage and can you believe it - we forgot our binoculars - so we mostly watched the 2 big screens on both side of the stage, but the sound was perfect!!! Completely opposite from the Vegas concert - there we could see Paul up close & personal but the music was so LOUD that you needed ear plugs.
I shot these videos from clear across the Stadium! My little old HP camera did a great job once again. I think our seats were the farthest away from the stage as they could possibly be but Gabe was right - there is not a bad seat in there.
During the concert Paul read out an audience-member's sign which evidently amused him. It read: "Paul, you're in Utah, marry us". He said, "What? all of you?!" with a laugh.
Of course I was shouting, "YES!"
"Marry Us"
Paul was smiling, energetic, witty & funny throughout the night and entertained us for 3 short hours and 40 songs without even stopping for a drink of water. He is AMAZING! He acts & looks much younger than his 68 years. Even Dan was impressed (and maybe loves him a little more). He sounds just GREAT. I LOVE his voice and his songs speak to my soul. From the first song to the last he was AMAZING!

My Love - for Linda
Christy - I would love to tell you that you didn't miss a thing but that would be a lie - I did miss having you there (but please - I wouldn't trade our Vegas/Paul show for anything - we were like 20 feet away!) and Dad is not quite as enthusiastic as you are... One lady in the front threw a record album onto the stage and Paul picked it up and signed it right then & there. I'm so jealous. He played different songs than he did in Vegas so it wasn't a repeat (which I wouldn't have minded at all) but he did play Live and let Die with the fireworks and it was great again!!! I did miss having you to sneak backstage for some after concert contraband - I couldn't talk Dad into it - nor could I talk him into going on to Denver for Paul's next stop. Chris- lets be full time groupies and just follow Paul around! Can you think of anything more fun?

Blackbird
It was an awesome experience!!! Paul has to be sick of singing the same old songs that he has sun for the past 40 years but you would never know it - he loves to make his fans HAPPY. As we walked back to our hotel on this warm summer night people were driving by and honking and playing Beatles songs really loud - it was so much fun! We stopped at Arby's for a late night banana split milkshake. Oh, what a wonderful night! Paul is definitely the voice of the Beatles. Thank You Paul!

Live and let Die
I've Got A Feeling